Want to know more about where your family came from? I took the 23 & Me spit test to see what came up.  I registered and waited in wild anticipation.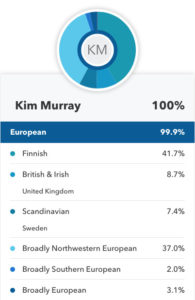 It was fascinating!  Although I love blue, my chart was nothing but various shades of blue – which indicates 100% European.  Yep. Just as I thought.  My mom's side of the family is full Finnish (proven by my 41.7% Finnish roots according to my results.)  My dad's side is a mixed bag of European everything. The strange part, however, is my grandma (Dad's mother) has done a ton of research on our family roots – the German side.  My maiden name is Schanz (I'm no longer married but kept my new last name), and we have Helmrichs and Schaff in the mix just to name a couple.  That's pretty German!  Yet there was no specific mention of "German."  Very interesting.
When I shared my findings with my mom, she was intrigued.  We went through all the traits, probable medical issues (or not), and spent hours having a blast as we learned all kinds of stuff.  The most interesting one for her was a trait we commonly have on her side that makes our hair appear silver in photos.  My mom's hair is blond, yet it always looks gray in photos!  Check out the photo of her and her nice, gray looking hair!  We had to laugh.  It IS a thing!  She's been so annoyed about that all this time and now she knows why it keeps happening.  I must have enough of my dad's side to keep my hair looking blond. At least for now…
Learn to enjoy every minute of your life. Be happy now. Don't wait for something outside of yourself to make you happy in the future. Think how really precious is the time you have to spend, whether it's at work or with your family. Every minute should be enjoyed and savored. – Earl Nightingale
I'd like to take a moment to send out a little tribute to my dad (also pictured in the photo).  He lost his battle with kidney cancer on October 22, 2017.  He was a hard-working, stressed-out farmer from Montana, but he was the best dad I could have asked for.
You're missed, Dad.  Wish you were still with us, but know you still are in so many ways.
Much Love to Everyone…wherever you are,
– Kim