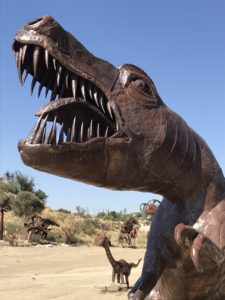 Now that I'm older, time seems to be flying by faster than the speed of light.  Well, that's not totally true…the days go by SO slowly sometimes it seems, but the years go fast. The best thing you can do is make those years count, as you look though all the photos on your phone.  You'll be thinking, "Oh man…I did SO MUCH this year" instead of, "Where the hell have I been this whole time?!"  I'd rather have the first conversation with myself, I don't know about you.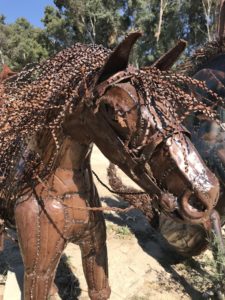 A fun little story for you… I was on my way to Palm Springs (California – it's about 3 hours from me).  Instead of taking the usual freeway route (which I really don't like very much), I opted for the scenic route instead.  The narrow two-way road took me off the beaten path, but with that, I discovered the coolest, most random place ever!  Seemingly in the middle of nowhere, there was a fantastic outdoor sculpture garden with these huge, elaborate works of metal I can't even begin to describe!  There were horses and dinosaurs…oh my!  I skidded into the parking lot (it's kind of around a corner and comes at you rather quickly!) and spent over an hour wandering around the Ricardo Breceda Gallery & Sculpture Garden (check it out on TripAdvisor). Apparently there are several artists that contribute to the collection, and one of them was actually there at the time, welding away… I let him know how awesome I thought it was – and I have great photos and memories from my truly random find.
So next time you're out and about, don't hurry past the small stuff. It could be just the tip of an iceberg into something way more awesome than you'd ever imagine.
Your Fellow Explorer,
– Kim
Don't miss out on something that could be great just because it takes a little extra time to get there. All you've got is time. Without it, you have nothing, so you might as well enjoy the ride.