If you love mimosas like I do, I have a great tip for you that will make them just a *tad* bit healthier…
First, if you're on a budget like me, don't waste your hard-earned money on the best bubbly out there – even if you're on a hot date!  Please do yourself a favor and drink the "good stuff" chilled and all by itself!  When making mimosas, get the bottle that's least expensive.  You can't really taste the bubbly anyhow after you mix in your juice of choice, so keep that in mind.  I love Andre – either Brut or Extra Dry.  It works for my budget and makes great mimosas.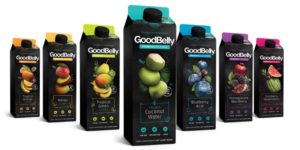 Now for the healthier part.  Let me preface that drinking juice adds a lot of sugar to your diet, so if you're looking to lose weight or keep your blood sugar levels under control, I don't recommend drinking juice – or bubbly for that matter! Now that we have that little disclaimer out of the way, if you're going to have juice, you might as well make it good!  Good Belly has a few delicious juices that also contain probiotics – and you should be able to find at least a couple kinds at a local grocery store!  BONUS!  Pick your poison and love every minute of it…
Good Belly also has many other probiotic products!  If you've got digestion on your mind, maybe give some of these a try.
"There comes a time in every woman's life when the only thing that helps is a glass of Champagne." – Bette Davis